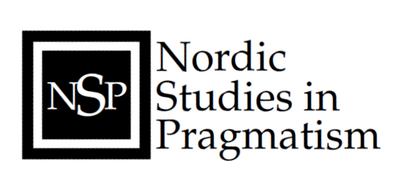 Purpose
Nordic Studies in Pragmatism is a peer reviewed book series published by the Nordic Pragmatism Network. The series publishes studies on the tradition of philosophical pragmatism as well as on closely related topics. It is distributed on-line in an open access format, making the volumes freely available for scholars and students anywhere in the world.
Editors
General Editors
Mats Bergman (Department of Social Research; University of Helsinki).
Henrik Rydenfelt (Department of Philosophy, History, Culture and Art Studies; University of Helsinki).
Editorial Board
Douglas Anderson (Southern Illinois University Carbondale)

Rosa Calcaterra (University of Roma Tre)

David Hildebrand (University of Colorado Denver)

Erkki Kilpinen (University of Helsinki)

Jonathan Knowles (Norwegian University of Science and Technology)

Cheryl Misak (University of Toronto)

Jón Ólafsson (Bifröst University)

Sami Pihlström (University of Helsinki)

Huw Price (University of Sydney)

Bjørn Ramberg (University of Oslo)

Ulf Zackariasson (University of Uppsala)